Current Issue
Vol. 1 No. 1 (2017): Journal of Reproduction & Sexual Health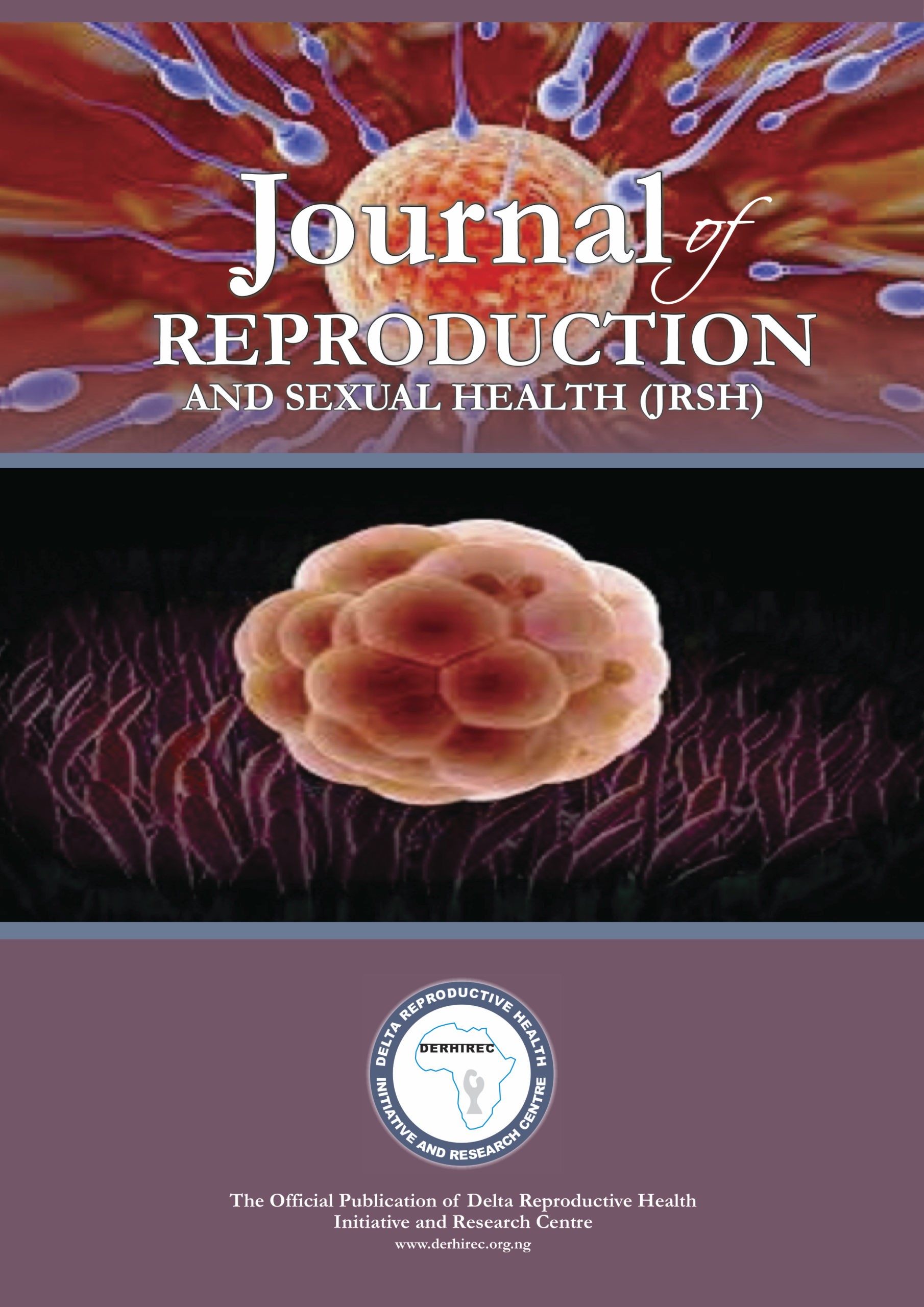 On behalf of the team of Delta Reproductive Health Initiative and Research Centre (DERHIREC) Sapele, Nigeria, I proudly unveil and present the maiden edition of the journal of Reproduction and Sexual Health (JRSH) which is in keeping with one of our core mandate of documentation and publication in sexual and reproductive health.
The overall goal of the JRSH is to provide a platform for Researchers working in Nigeria, Africa and other continents of the world to share and publish their research findings in the field of human reproduction (including clinical and basic sciences perspectives) and sexual health. Additionally, Researchers working in areas directly and remotely related to reproduction and sexual health including maternal and child health issues, adolescent reproductive health and andrology, as well as social science Researchers working on the background and intermediating sociocultural factors that impact on reproduction and sexual health globally and particularly in developing countries are welcomed to document their findings through JRSH.
In line with our cardinal objectives of exhibiting and maintaining excellence at all material times, DERHIREC team has painstakingly put together seasoned experts into the Editorial Board of JRSH and assembled an array of international personalities as Editorial Consultants who shall ensure international best practices in Journal publication. The journal like our earlier bestselling textbook of infertility and assisted conception in the tropics, shall be of extremely high quality in terms of content and form.
Beyond publishing different types of articles, a section of the journal shall be devoted to bringing to the fore newest development and issues in the field of sexual and reproductive health, and human reproduction in general. It is our hope that Researchers particularly budding academics in Africa and developing nations will find this aspects stimulating and rewarding to furthering their research career. In this maiden issue we have an original article, and a case report. But significantly, a huge number of the papers in this edition have been devoted to review articles in topical aspects of sexual and reproductive health in Africa and Nigeria, and will provide clearer understanding in these areas to the reading audience.
Finally, I therefore solicit and welcome submissions to this biannual journal with expeditious review process in good time.
Prof. Lawrence Omo-Aghoja
Executive Director (DERHIREC) & Editor-in-Chief
View All Issues